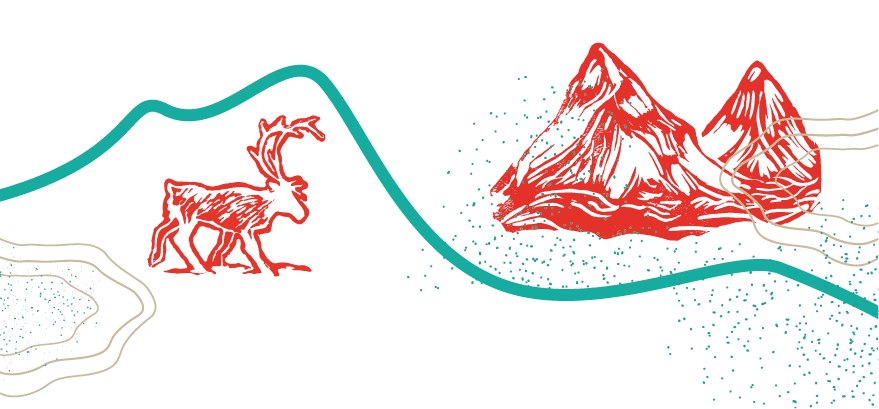 Sail with M/B Bitihorn in Jotunheimen
Join a beautiful journey across Bygdinvannet with historic M/B Bitihorn. On board Bygdinbåten you see many of Jotunheimen's mighty peaks towering along the water. The boat calls at Bygdin, Torfinnsbu and Eidsbugarden, all of which are great starting points for experiences in the mountains. The boat at Bygdin operates daily during the season from the end of June to mid-September.
"In 1905, the first commercial boat trip crossed Bygdin. Over 100 years later, we are proud that we are still transporting mountain people across Bygdinvannet, into this majestic realm!"
Transportation
The boat calls at Eidsbugarden in the west and Bygdin in the east. We also have ports of call for boarding and disembarking midway at Torfinsbu.
Luggage transport
How to send luggage with M/B Bitihorn
How to send luggage with M / B Bitihorn
1. Buy a luggage tag
Luggage tag can be bought at Bygdin Fjellhotell, Fondsbu or on board M / B Bitihorn.
Luggage tags can also be purchased at Torfinnsbu (self-service in the main cabin), but only with Vippsbetaling.
2. Check the desired destination
Check the luggage tag where you want the luggage sent to.
Feel free to write your name and telephone number. This is optional, but nice for the crew to have if an unforeseen situation should arise in connection with. baggage transport.
3. Attach the label clearly to the luggage
Attach the note to a clearly visible place on the luggage.
4. Place your luggage on the pier
Put the luggage on the pier it is to be sent from. At Bygdin and Eidsbugarden (Fondsbu) it is placed by the sign where i.a. the timetable hangs.
Luggage must be on the pier at least 15 minutes before departure. The luggage cannot be covered and the luggage tag must be clearly visible to the crew without the luggage having to be turned over or moved.
5. Pick up your luggage
The luggage is put on the pier immediately after the arrival of M / B Bitihorn.
Terms for luggage transport
Submission
The luggage must be placed on the sender's jetty at least 15 minutes before departure. The luggage tag must be clearly visible on the luggage without it having to be moved or turned over. The luggage can also not be covered so that the luggage tag is not visible.
Delivery
Delivery is considered to have been made when the luggage is placed on the pier at the destination according to the check on the luggage tag.
JVB reserves the right that extradition may not take place under extraordinary circumstances such as; weather conditions which mean that M / B Bitihorn cannot add to the pier or go from another, unforeseen technical problems, natural disasters and the like.
What can be sent?
We carry all normal luggage and goods such as. sacks, bags, suitcases, boxes etc.
We reserve the right to demand payment for additional packages if two or more packages are clearly packed, bound or in other ways put together to appear as one package.
It is not allowed to send dangerous goods such as, but not limited to, petrol, diesel, gas, etc.
Small quantities for own use intended for cooking appliances are accepted.
Maximum weight per package is 35kg.
Prices
Luggage transport costs NOK 100, – incl. VAT. per package. The price applies to one section per piece of luggage.
Definitions
Packages: A package is a single unit, such as a sack or a bag.
Section: A section is one of the following sections: Eidsbugarden-Torfinnsbu, Eidsbugarden-Bygdin, Torfinnsbu-Bygdin, Torfinnsbu-Eidsbugarden, Bygdin-Torfinnsbu, Bygdin-Eidsbugarden. A section cannot be divided into several stages.
On board: The luggage is considered to be on board from the moment the crew starts loading the luggage from the place of delivery to the moment the crew has finished unloading the luggage at the place of delivery.
Compensation for loss, damage or delay
JVB only takes responsibility for the luggage during the time it is on board M / B Bitihorn. Compensation is not paid for loss of or damage to the luggage outside the time the luggage is on board M / B Bitihorn.
Compensation in the event of delay is limited to a maximum of up to the value of the baggage transport.
About ticket purchases and prices
We recommend booking a ticket in advance. With a pre-purchased ticket, you are guaranteed a place on the boat.
Ticket prices
M/B Bitihorn has dynamic prices. Ticket prices can be found in the route search at www.nor-way.no when ticket sales are underway. There are discounted rates for children.
Round
Due to several carriers on the routes, a ticket must be purchased on each route, if you e.g. will take the boat from Bygdin Hotell to Eidsbugarden and bus back to Bygdin Hotell.
Dog on the boat
M/B Bitihorn brings dogs for free. They can be anywhere on deck, but unfortunately do not get into the saloon below deck.
Group booking
Groups of up to 20 people buy tickets through ordinary ticket booking. Groups of more than 20 people can pre-order by contacting us at [email protected] or telephone 91 11 11 03.
Questions and answers
Can I bring a dog?
M/B Bitihorn brings dogs for free. They can be anywhere on deck, but unfortunately do not get into the saloon below deck.
Can I bring a bicycle?
Yes, ticket for your bicycle is an add-on product in the booking process.
Do I have to buy a ticket in advance?
You do not have to, but to be absolutely sure that you get to join, it is very wise.
How long in advance should I book tickets?
We recommend that you buy a ticket at least 2 days in advance.
How many passengers does the boat take?
We can carry 98 passengers.
Trips with M / B Bitihorn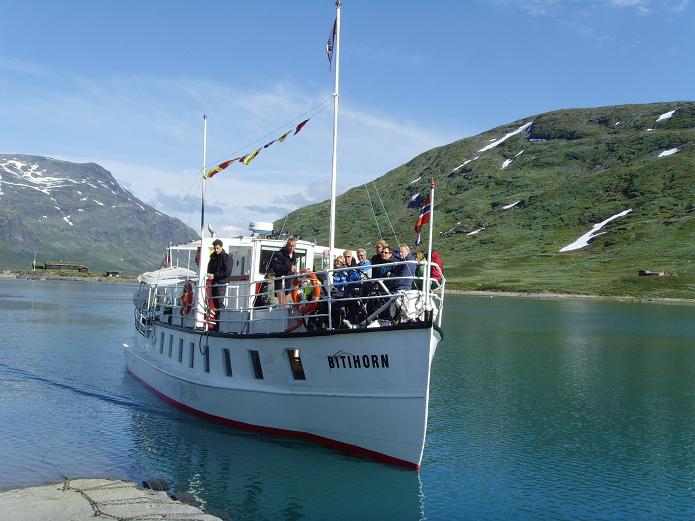 The boat trip over Bygdin is the perfect starting point for many fantastic mountain trips! The boat has several departures daily, and in addition to the terminals Bygdin and Eidsbugarden boarding and disembarking at Torfinnsbu. From Torfinnsbu you can walk the mighty and alpine Torfinnstindane, or walk through the beautiful Svartdalen over to Gjendebu.
See all our tour recommendations based on the boat over Bygdin, or join one of our package tours!
Are you interested in a package tour where all of the transport, accommodation and activities are planned? Through our travel company Jotunheimen Travel, we arrange many package tours with the boat trip across Bygdin as a starting point. This includes both hiking, mountaineering and mountaineering.
It is possible to charter the boat, for example for a company trip or other teams. We have had great success with "jazz cruises" with live music on board. For those who have walked the Torfinnstind traverse, we can pick up in Langedalen on request.
M/B Bitihorn runs on a fixed route until  17:15 every day in the period 30/6 – 1/9 and 6-8/9, and 13-15/9. During this period, it is only possible to rent M/B Bitihorn from Bygdin after 17:20 and until approx. at 21:00.
Information
Season from  25.06. – 25.09.2024
Price: NOK 3,000 per hour or ordinary ticket price (highest price applies)
Minimum rental period: 2 hours
In the event of a transfer assignment, the rental period will end only after the boat's arrival back to the starting point.
Contact for information and booking
The story of M/B Bitihorn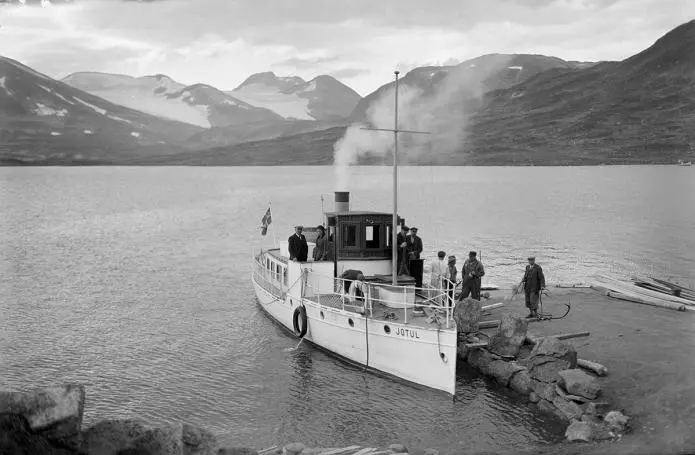 Ola Kristian Hegge has collected photos and written text about a part of JVB's history. Here is information about the boats that have been and are in JVB's possession.
As hiking tourism in Jotunheimen steadily increased, it was necessary to connect the mountain areas with boat routes. At an early stage, the tourist hosts in the area made a great effort to purchase larger vessels that could take a significant number of hikers. This was relevant for the mountain lakes Gjende, Tyin and Bygdin. There have been many types of boats over the years, you can read more about this in the book * LAKE BOATS IN VALDRES * by Kai Svensson.
JVB bought M / B Bitihorn in 1944 and has since owned the boat. The same year, the company bought M / B Jøtul. The vessels sailed on the mountain lakes Bygdin and Tyin, respectively. M / B Jøtul ran between Tyin and Tyinholmen until 1955 when the road between Tyin and Eidsbugarden was opened to public traffic.
M / B Bitihorn was built at Glommens Mek. Workshop in Fredrikstad in 1912. It was transported in parts to Bygdin and riveted there by people from the yard. Until 1977, the vessel had room for 70 passengers. However, the boat was extended by 10 feet this year and then had room for 98 passengers. M / B Bitihorn transports a good number of thousands of hikers and others who want to experience the magnificent nature in the area Bygdin, Torfinsbu and Eidsbugarden through the summer season.
M / B Jøtul was originally built in Sweden in 1915, but came to Tyin in 1932. In the meantime, it had, among other things. sailed on Tinnsjøen in Telemark for a few seasons The vessel had room for 53 passengers. In 1978 it was sold as scrap iron. The photo was taken at the pier at Tyinholmen by photographer Esther Langberg and borrowed from the Oslo Museum. We see Koldedalstind 1927 masl. and the Koldedalsbreen glacier opposite us.
Background
M/B Bitihorn has been on a regular route every summer on Lake Bygdin 1060 m.o.h. since 1912, and runs 2 departures every day. A beautiful journey where you see many of Jotunheimen's peaks of over 2000 m.o.h. With approx. 10,000 passengers a season, many on their way to a great hike in the mountains, this is a popular offer for many.
M/B Bitihorn's passengers are everything from mountain hikers, bus tourists, local return travelers and workers, e.g. reindeer herders.
About boat traffic at Bygdin
Motorized boat traffic on Bygdin was already in 1905 with the boat "Bygdin". Before this time it was possible to rent rowing boats. This could take from 12 to 17 hours depending on the weather. "Bygdin" got competition in 1910 from "Kong Haakon" and thus from M/B Bitihorn in 1912. In the summer of 1913, M/B Bitihorn was the last of three boats to compete with each other! After the 1913 season, "King Haakon" was sold to Tyin and remained there for many years as "Jotunheimen". Bitihorn was left alone, but got new competition from a new "Bygdin" in 1925 and from 1933 as "Synshorn". Since the mid-1930s, M/B Bitihorn has sailed alone on Bygdin.
Facts
Build #19 at Glommens Mekaniske Verksted in Fredrikstad in 1912.
Extension designed by ship engineer Per G. Klem was built on the same site in 1976, and installed at Bygdin in 1977.
Length 65 feet (55 feet before extension in 1977), width 12 feet, draft 4 feet
Maximum number of passengers allowed: 98.
| | | |
| --- | --- | --- |
| Period | Motor | Speed (max) |
| From 1912 to 1952 | 40 hk Bolinders | 8 knots |
| From 1952 to 1982 | 100 hk AEC Marine | 10,5 knots |
| From 1982 to 2003 | 120 hk Scania Marine | 12 knots |
| From 2003 | 350 hk Scania Marine DI9 | 12 knots |
Crew
From 1912 to 1982, the crew consisted of a captain, engineer and deck boy. In connection with the new engine in 1982, the control panel for the machine was moved to the wheelhouse, and the crew was reduced to the current two.
Major upgrades in recent years
2018: Installed Simrad chartplotter with 4G radar
2012: Installed electric bow thruster and hydraulic steering.
2006: M / B Bitihorn gets its first radar.

2005: New masts.

2003: New engine and control panel.

1998: Extensive maintenance of boat slip for winter storage.

1996: New foredeck made by Hardanger Vessel Protection Center.

1995: Extensive restoration of the salon by Nils H. Heen.

1993: New aft deck made by Hardanger Vessel Protection Center.