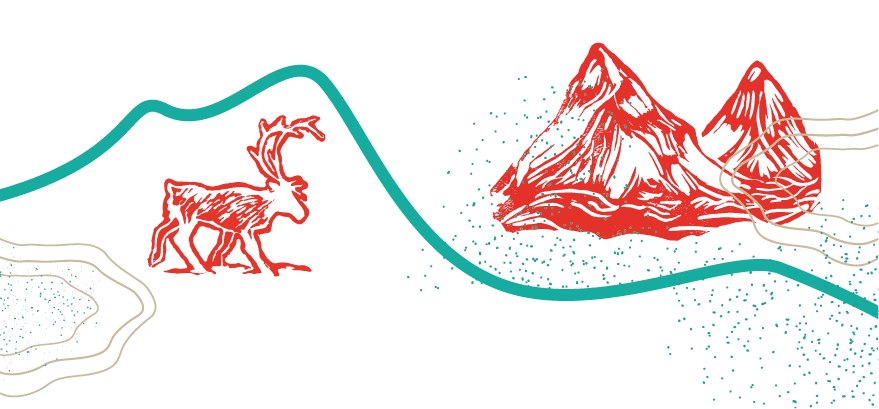 Drive to Eidsbugarden with snowcoaches
Visit Eidsbugarden and Jotunheimen with the nostalgic snowcoaches. Here you have the opportunity to get high up in the mountains in a comfortable and exciting way. 12 Bombardier Snowmobil veterans go into traffic between Tyin and Eidsbugarden in Jotunheimen during the winter season.
The historic Bombardier snowmobile tracked vehicles run from Tyin to Eidsbugarden throughout the winter. This is living history, transport and tourist attraction combined! Our season starts in mid-February and lasts until the beginning of May.

The luggage must be sensibly packed and withstand a little rain and snow, so that it can be strapped to the roof during transport. Skis should be tied together or put in a ski bag. It is only possible to bring a small hand luggage into the tracked vehicle. See more information about luggage and frequently asked questions.
See timetable
"A trip with the old snowcoaches is an experience in itself! In winter, they are the lifeblood of Eidsbugarden. "
Transportation and maps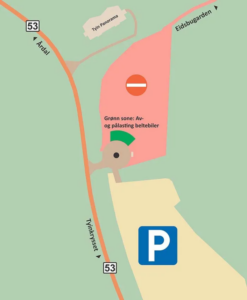 The map shows the place of loading of the tracked vehicle on Tyin. It is a good idea to calculate extra good time on outing days such as Friday and Saturday, winter holidays and Easter and on days with poor driving conditions. Remember to show up 15 minutes before the scheduled departure to load your luggage.
Arrival by bus
Nor-Way Bus Express route NW160, Valdresekspressen, serves the Tyin stop in the immediate vicinity of the tracked vehicles. Feel free to tell the bus driver that you are going to the tracked car on Tyin when you get on the bus. The tracked car drivers usually have contact with the buses before departure and then we know you are coming.
NB! Departures in the timetable marked ank / avg Tyinkrysset (East-West Express and Inland Traffic) only have a connection between Tyin and Tyinkrysset (4km) by taxi. Contact JVB to order a taxi (NOK 50 per person). If you have ordered a regular bus and belt ticket on Nor-Way Bussekspress's website, you do not need to order a taxi separately, in which case this is included.
Arrival by car
If you come by car, you will find a parking space on Tyin on the right side of the road when you come from Tyinkrysset (Oslo / Bergen). The parking lot is unattended. Both to pay and to enter the parking lot, you must have a valid payment card (parking costs NOK 110 per day). (JVB has nothing to do with the operation of the parking lot). Map reference for the tracked vehicles and the parking can be found by clicking here.
Electric cars
There is currently no charging option for electric cars on Tyin. The nearest charging station is at Tyinkrysset Fjellstue and this is operated by Fortum.
Luggage transport
How to send luggage with the tracked vehicle
Make sure that the tracked vehicle is driving
The tracked vehicle only runs departures for which there are bookings. To make sure that the luggage transport will take place as expected, you must either ask where you buy the luggage tag or call the tracked vehicle directly on telephone 911 11 103 (no text message!).
Buy a luggage tag
Luggage tag (s) can be purchased at Fondsbu or at the driver's tracked vehicle.
When purchasing luggage tag (s), you also accept the terms for luggage transport. The terms can be found at the bottom of this page.
Mark the destination, name and telephone number
Check the luggage tag for where the luggage is going. Feel free to write your name and telephone number, it is nice for the driver to have if an unforeseen situation should arise in connection with. transport.
Attach the label clearly to the luggage
Attach the note to a clearly visible place on the luggage.
Place the luggage correctly at the place of departure
At Tyin and Fondsbu: The luggage is placed by the sign marked with the text "Luggage transport".
On Tyinholmen: Put your luggage outside the main entrance.
Notify the tracked vehicle
Make sure that the place where you buy the luggage tag (s) or that you notify the tracked vehicle on telephone 911 11 103 (not text message!) That luggage is to be sent out.
This step can possibly be done at the same time as point 1.
Pick up your luggage
At Fondsbu and Tyin: The luggage is picked up at the sign marked "Luggage transport".
At Tyinholmen: Luggage is picked up outside the main entrance.
Terms for luggage transport
1. Submission
The luggage must be placed in the designated place according to instruction at least 15 minutes before departure. The luggage tag must be clearly visible on the luggage without the luggage having to be moved or turned over. The luggage can also not be covered so that the luggage tag is not visible. The tracked vehicle must be notified by telephone when you wish to send luggage. Notification with text message (SMS) is not considered a notification because the tracked vehicle does not receive an SMS.
2. Delivery
Delivery is considered to have been made when the luggage is placed at the designated place at the destination according to the check on the luggage tag.
JVB reserves the right that extradition may not take place under extraordinary circumstances such as; weather conditions that prevent the tracked vehicle from driving or being delayed, unforeseen technical problems, natural disasters and the like.
What can be sent?
We carry all normal luggage and goods such as. sacks, bags, suitcases, boxes, skis, ski bags etc.
We reserve the right to demand payment for additional packages if two or more packages are clearly packed, bound or in other ways put together to appear as one package.
Exceptions to this rule are ski and ski equipment that can fit in one ski bag or a pair of skis and ski poles that are tied together into one package.
It is not allowed to send dangerous goods such as, but not limited to, petrol, diesel, gas, etc.
Maximum weight per package is 25kg.
When can the shipment take place?
Luggage transport takes place on the tracked vehicle's ordinary departures. JVB is not obliged to perform the service and can at any time reject luggage transport e.g. when there is no space on the tracked vehicle, the luggage is left in the wrong place, the luggage is delayed or left after the deadline. Luggage transport is also only performed on those departures that have orders from passengers. Luggage transport can take place on all departures, including departures without orders, if the customer pays the full minimum price according to the current price list.
Prices
Luggage transport costs NOK 100, – incl. VAT. per package. The price applies to one section per piece of luggage.
Definitions
Packages: A package is a single unit, such as a sack or a bag.
Section: A section is either from Tyin to Eidsbugarden, Fondsbu or Tyinholmen or from either Eidsbugarden, Fondsbu or Tyinholmen to Tyin.
On board: The luggage is considered to be on board from the moment the driver starts loading the luggage at the drop-off point until the moment the driver has finished unloading the luggage at the drop-off point.
Delay: More than 1 hour later arrival than scheduled arrival time.
Compensation for loss, damage or delay
JVB only takes responsibility for the luggage during the time it is on board the tracked vehicle. Compensation is not paid for loss of or damage to the luggage outside the time the luggage is on board the tracked vehicle.
Compensation in the event of delay is limited to a maximum of up to the value of the baggage transport. In the event of a delay due to the circumstances in section 2, no compensation will be paid.
Questions and answers
Can I bring a dog?
Yes, dogs can join. The ticket price is NOK 100 per dog.
Is it hot inside the tracked vehicle?
Normally it is good and warm inside the tracked vehicles, but wear warm clothes and good winter shoes in case of very cold and bad weather.
Do the skis have to be tied together?
We really appreciate that. Ski bags are top notch, both for the tracked car driver and your skis!
Can I bring cardboard boxes (with food etc.)?
Yes, we bring all kinds of packages, but make sure they are tight. Space is often limited so we will sometimes depend on putting things upright or stacking luggage on top of each other.
Vegetables, flowers and other things that absolutely can not freeze must be packed in hand luggage and taken into the tracked vehicle.
We also really appreciate large bags and especially duffel bags (which are also waterproof).
Can I pay by card?
Yes you can.
Where do we park?
Parking takes place in a large parking lot right near the tracked vehicles. See "transport and maps".
When do I have to show up?
At least 15 minutes before departure. Even earlier if you plan to change, pack or do other things before departure. The times in the timetable are departure time and at least 10 minutes must be calculated for loading, ticketing, etc. Remember that the travel time is longer on typical departure days in connection with weekends, winter holidays and Easter. The tracked vehicle does not have time to wait and it is not certain that we will have room for the next departure. Calculate a good time instead!
Is there a toilet and waiting room on Tyin?
No Unfortunately. At Tyin it is pdd. no facilities for the passengers (we are working on the case). We recommend making the last toilet visit in Vang or at Tyinkrysset.
Do you drive across the water?
No, the tracked car route mainly follows the summer road. Where the route deviates from the road, we are always on the mainland.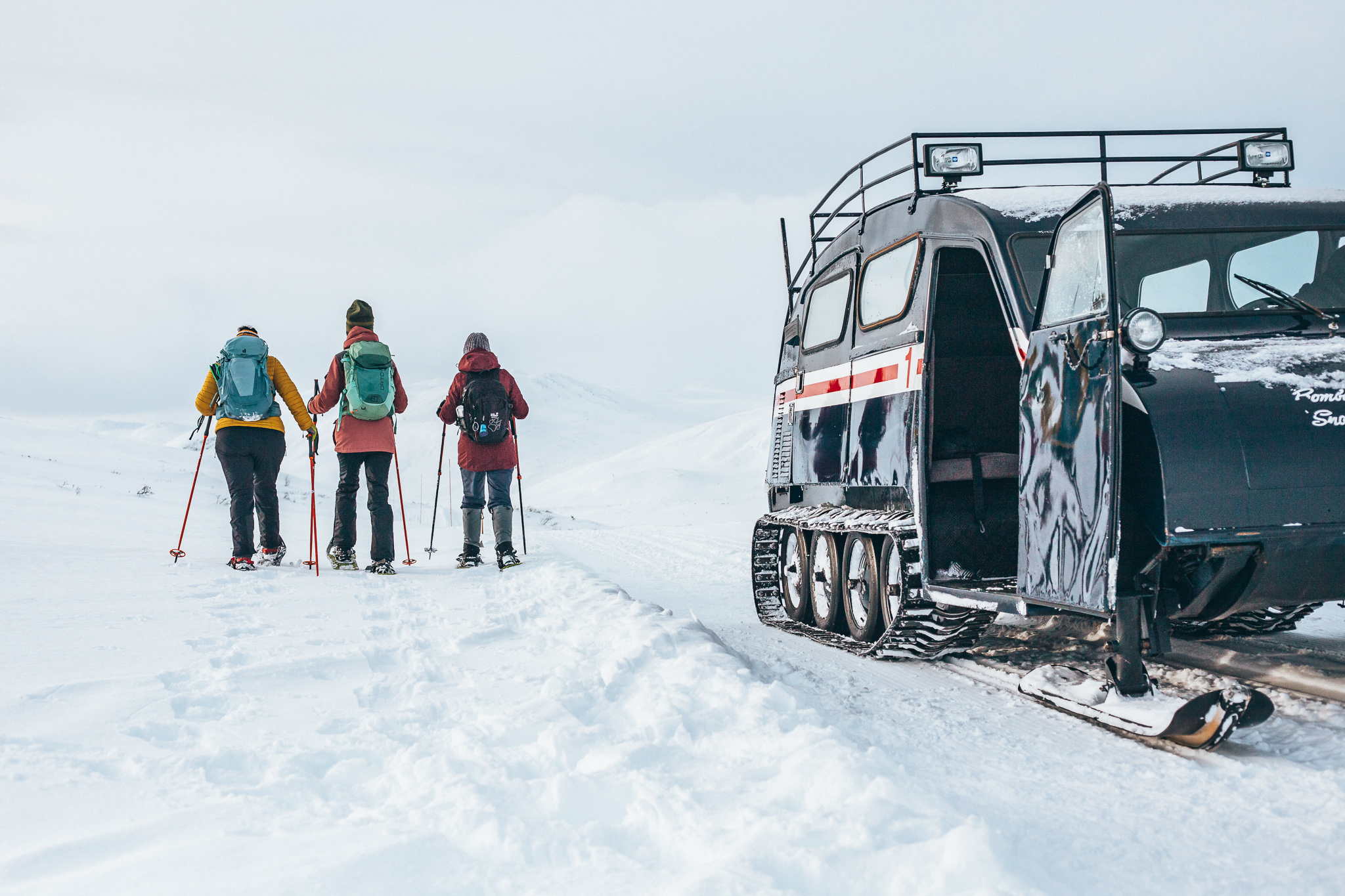 If you are a group that wants to go to the mountains, then it may be worthwhile to ask us about package offers for both tour bus, tracked vehicle and possibly accommodation and content. Ask us!
JVB can offer complete package offers for companies and groups to Eidsbugarden, Fondsbu and Tyinholmen. Packages include tour bus, tracked vehicle, accommodation and meal. We can also provide activities and experiences such as:
Dog sledding
Guided tours on skis or snowshoes
Kitekurs
Ice fishing
Landslide course
Snow cave trips
Various snow games and competitions
Send us an inquiry at [email protected] and receive an offer.
Are you interested in a package tour where all of the transport, accommodation and activities are planned? Through our travel company Jotunheimen Travel, we arrange several package tours with the tracked car as a starting point. How about a nice day in the mountains, with a belt ride and lunch?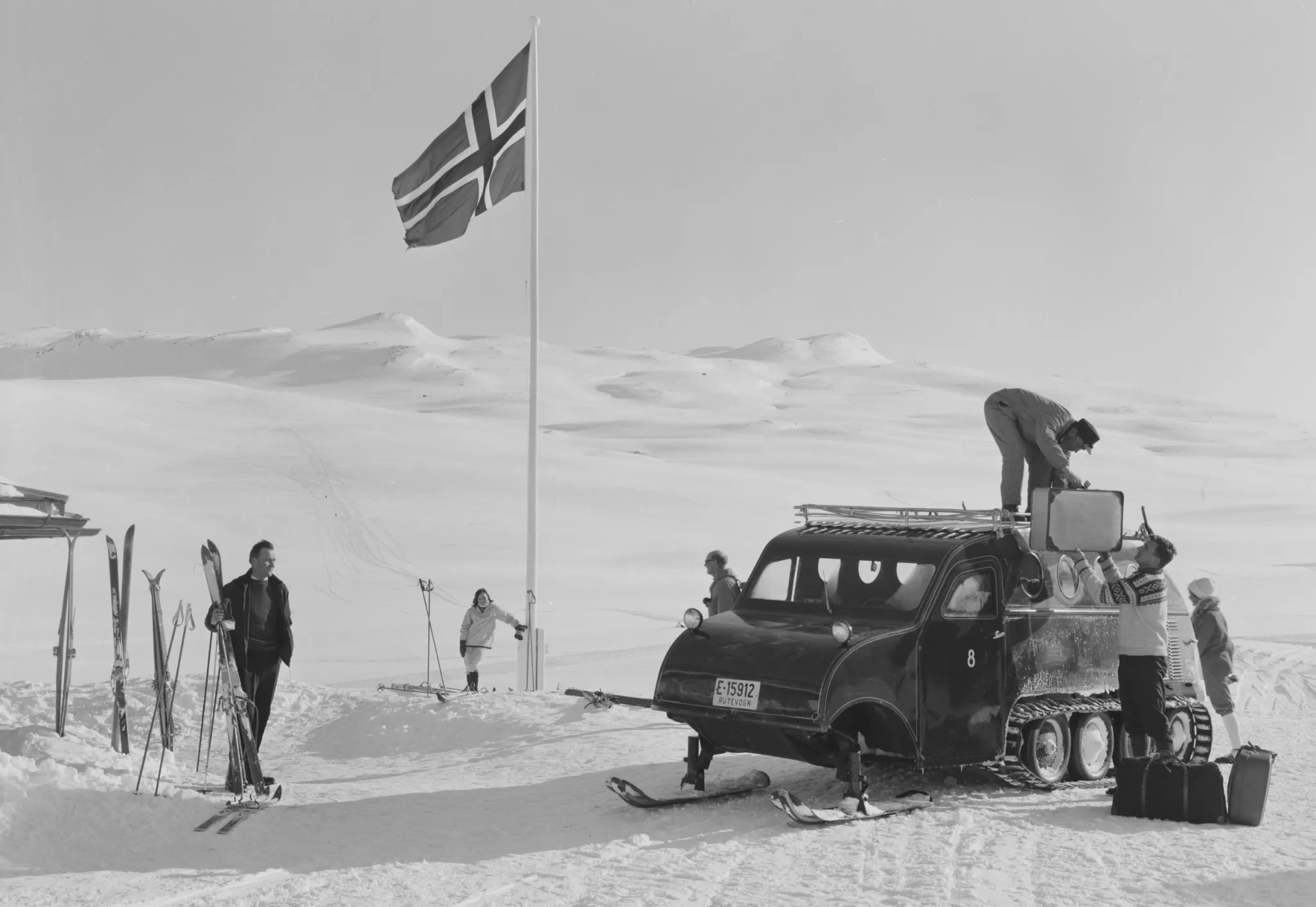 Ola Kristian Hegge has collected photos and written text about a part of JVB's history. Here is a photo series about tracked vehicles in JVB.
Initially, I would like to write a few words about this important part of the company's business.
Ever since the tourist traffic started inside the mountains, it was crucial to find transport options in the winter, the air traffic controller was tested, but these did not have a large enough capacity for passenger transport.
When World War II ended in 1945, it was possible to buy tracked vehicles in surplus stocks in England. The American Studebaker Weasel M 29 was a very relevant vehicle, but there was also limited space for passengers. The Canadian industrial group Bombardier had developed larger models that were very well suited for passenger transport and JVB was given opportunities to purchase these.
The snowmobile has a guide ski in front and this means that they are not suitable for driving in loose snow and it was therefore necessary to have the weasel to drive up the slopes. Bombardier had also developed the Muskeg tracked vehicle, which JVB purchased for this purpose.
For the large hotel companies Eidsbugarden and Tyinholmen, it was of great importance to find good communications in the winter when one thinks of the enormous winter traffic that developed especially from Sweden and Denmark. For many winters, JVB ran direct buses from various cities in Sweden and from Copenhagen, as well as from East and Vestfold. The tracked vehicles then took over the traffic and ensured an exciting trip into the mountains from both Tyin and Beitostølen. As the cabin development and the Norwegian Tourist Association's cabin Fondsbu were expanded, it was absolutely necessary to make good route connections.
Helge Kr. Kvame was a great pioneer in finding good solutions at an early stage. It was discussed early on in JVB's board if one should get involved in tracked car traffic and it was with a narrow majority that this became a reality. There is no doubt that it is the Tyin-Tyinholmen-Eidsbugarden section that has been the driving force in the belt car adventure.
On the stretch Beitostølen-Bygdin, the belt car trails went from Beitostølen to Garli for the first few years, then through Oledalen and Gravolsskardet further over the ice on Vinsteren and inland towards Bygdin. The last bend up before it flattened out could be difficult to force especially in loose snow, here the weasel was good to have to help with pulling in such situations. Jørgen Langedal, who ran an agricultural workshop and plumbing company at Heggenes, designed front-mounted winch equipment on the vehicles, thus solving some of the problems.
A little later, the trail route was laid on the marsh areas towards the hamlet Smørkoll on the outside of the national road to Båtskaret and one then had to drive the steep Båtskardsgila. The snowmobiles had to have traction aid to get up here and a winch with a long wire was set up which was connected, as well as a start button to make it as easy as possible. It was important to remember to bring the wire down on the return from Bygdin. In recent decades, Fv 51 had been plowed through the Båtskaret itself and the belt car trip started here.
Passenger transport with tracked vehicles has been relevant for several bus companies in the country, especially in Finnmark, Nord-Trøndelag, Kongsberg and Rondane, but JVB is today the only bus company that uses tracked vehicles in ordinary scheduled traffic.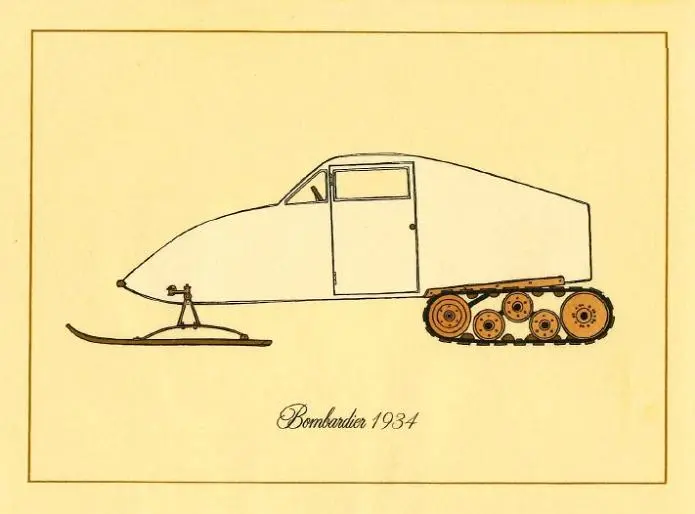 Joseph-Armand Bombardier, grunnleggeren av Bombardierkonsernet, utarbeidet mange pussige forslag til beltegående kjøretøyer. Vi lar denne illustrasjonen være innledningen til den utvikling som vi ser har skjedd på dette området.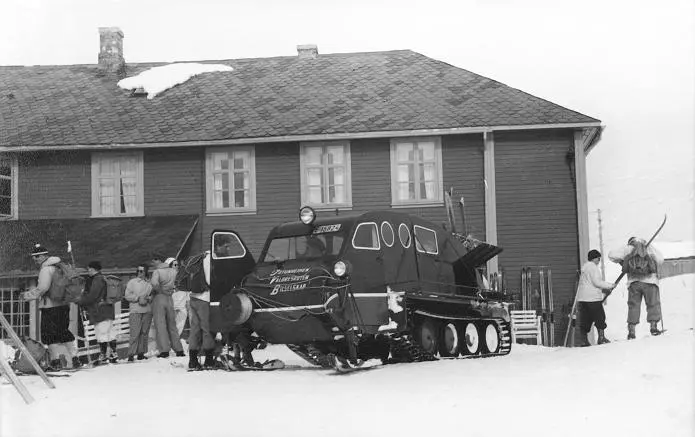 Denne Bombardier Snowmobilen, E-15824, en Ford som kom til Norge etter krigen og som JVB fikk anledning til å kjøpe. Det var to like og med registreringsnr. etter hverandre. Registreringsdato er 01.03.47. Begge to fikk montert spesialbygget vinsj for å dra seg opp bratte løypestrekninger. Disse ble bygget om noe senere og er beskrevet litt lengre ut i serien. Bildet er tatt i påsken 1953 utenfor Bygdin Høyfjellshotell av fotograf Edgar Wagner som bodde i London, men som var gjest ved hotellet flere sesonger.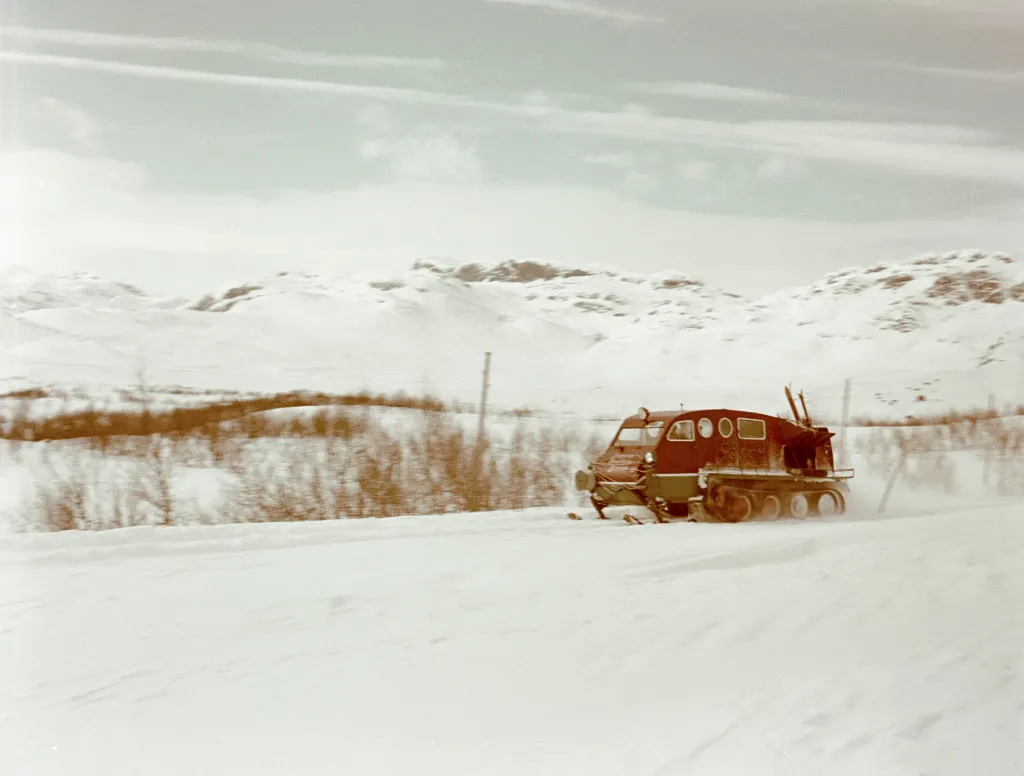 Nils Neste har også tatt dette bildet av Ford Snowmobile E-15824 i full fart mot Beitostølen en gang i begynnelsen av 1950 tallet. Vi får også et glimt av stølen Smørkøll i bakgrunnen.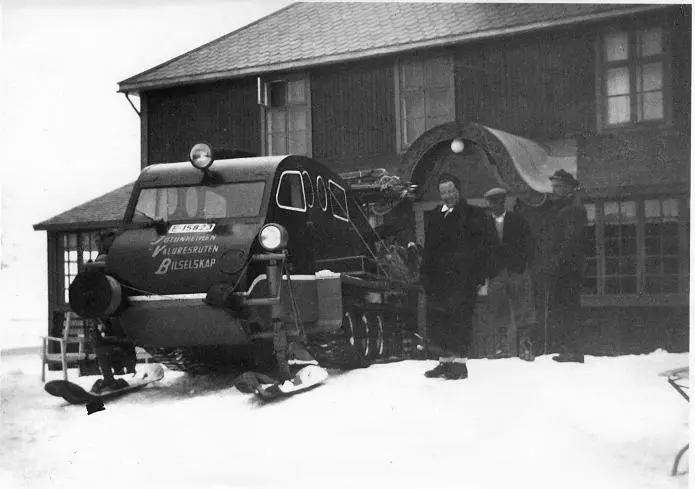 Snowmobile med regnr. E-15823 registrert 30.03.47 type Ford 1944-mod. Bombardier.
Bildet er tatt ved Bygdin Høyfjellshotell først på 1950-tallet. Den gang var kjøretøyet lakkert i mørk burgunder med hvitt felt rundt vinduer og nederst på karosseriet. Feltet under stripen var mellomblå.
Fotograf: Ukjent. Personene på bildet er mest sannsynlig Dagmar og Birger Kjos. Mannen helt til høyre med sjåførlue er Jørgen Rødningen som var sjåfør på beltebilen til Bygdin i mange år og som resten av året kjørte rute-tur og skolebarn.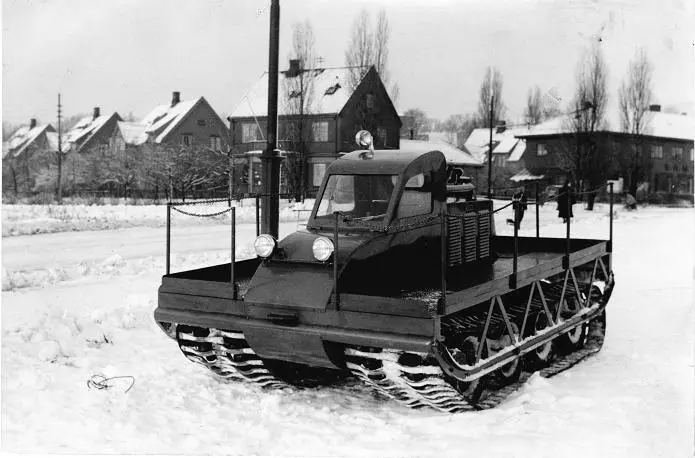 Beltekjøretøyet Muskeg er produsert av det Canadiske konsernet Bombardier med samme type motor som snowmobilene (seks syl. Chrysler). Styreanordningen skjedde via nedbremsing av beltene som var tilkoblet spaker i førerseksjonen. Kjøretøyet ble mye brukt som transportmiddel av tung last, i Norge hadde mange energiselskaper slike for transport av master, kabler osv.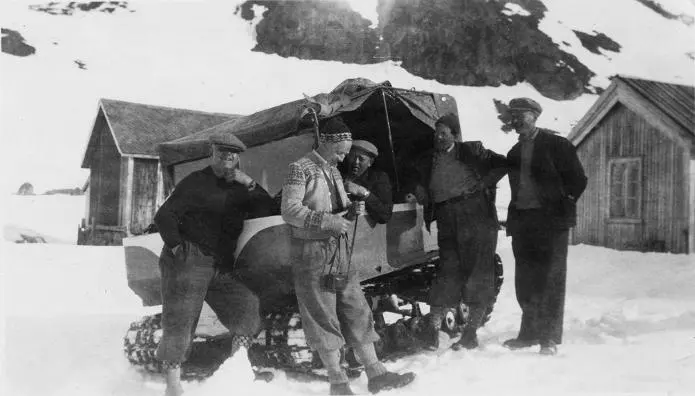 Studebaker Weasel M 29 med reg.nr. E- 15820 eller E-15821 registrert i februar 1947, 1944-mod. utenfor Fagerstrand Turisthytte ved Bygdin.
Fotograf: Ukjent.
Personene på bildet er fra venstre: Jørgen Dale, Knut Hålien, sjåfør Øystein Rolandsgården, Ola Paulsrud og Ingvar Hegge.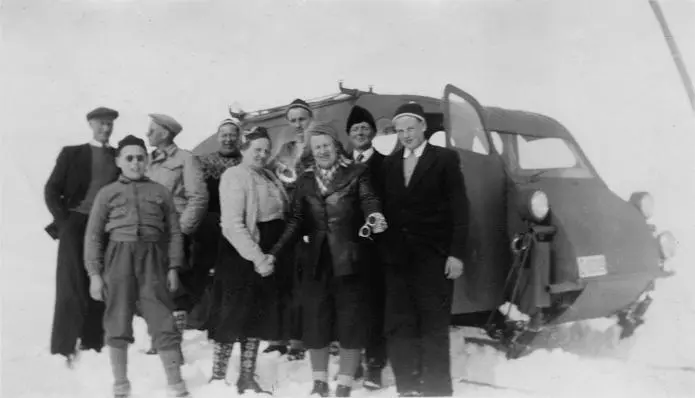 E-16000 1945 mod. Ford ble kjøpt fra Fossheim Turisthotell i 1951 og fikk reg.nr.15901. Fotograf: Øystein Rolandsgården.
Personene på bildet er fra venstre: Ingvar Rolandsgården, Anna Sælid, Anna Rolandsgården, Torstein Rolandsgården. Bak fra venstre: Sigurd Hagen, Torleiv Nordtorp-Skoglund-Tiedeman Røyne og Knut Sælid.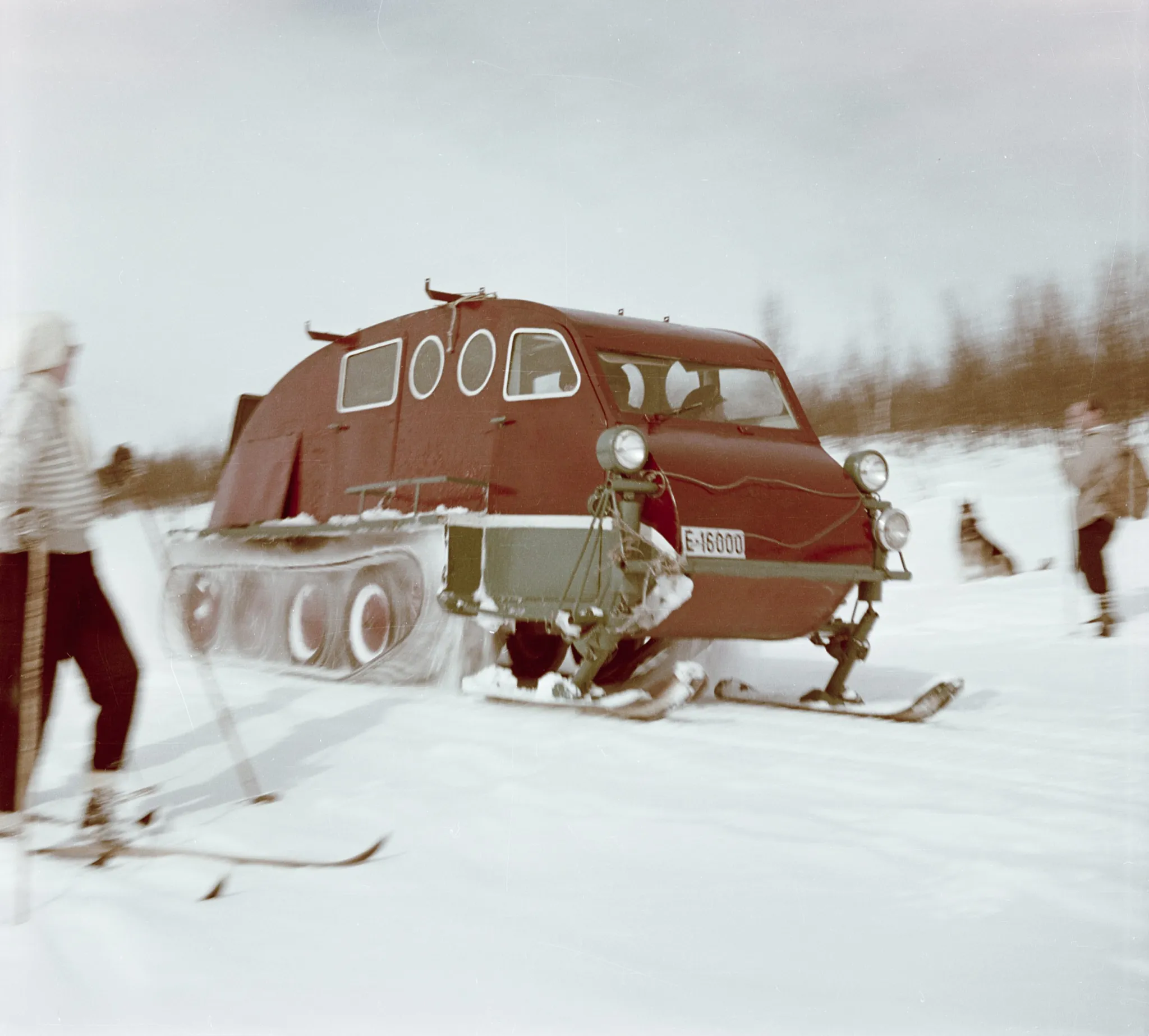 Samme Ford Snowmobile som foregående. Bildet er tatt av Nils Neste litt nordvest for Beitostølen vinteren 1951.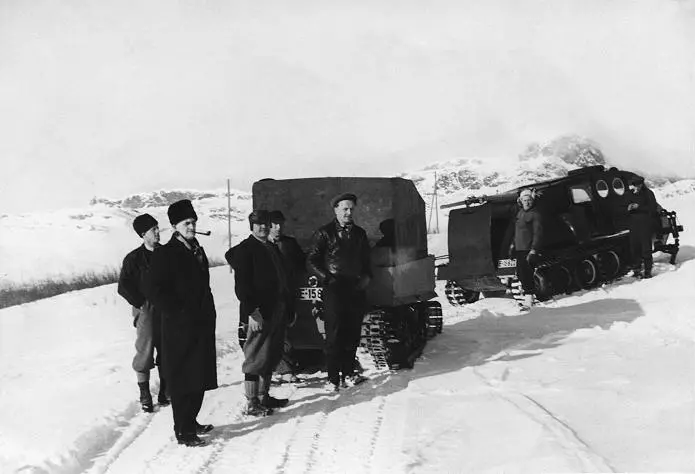 Når beltebiltrafikken til Bygdin startet i 1948 gikk beltebilene ut fra Garli, litt nord for Beitostølen. Her er E-15822 og weaselen med reg. nr. E-15820 klare for avgang. Personene på bildet er ukjente bortsett fra Jørgen Dale som står like bak kjøretøyet med nikkers. Mannen til høgre for han er Ingvar Enger. Gjennom skylaget får vi et glimt av Bitihorn. Bildet er utlånt av Per Nilssen.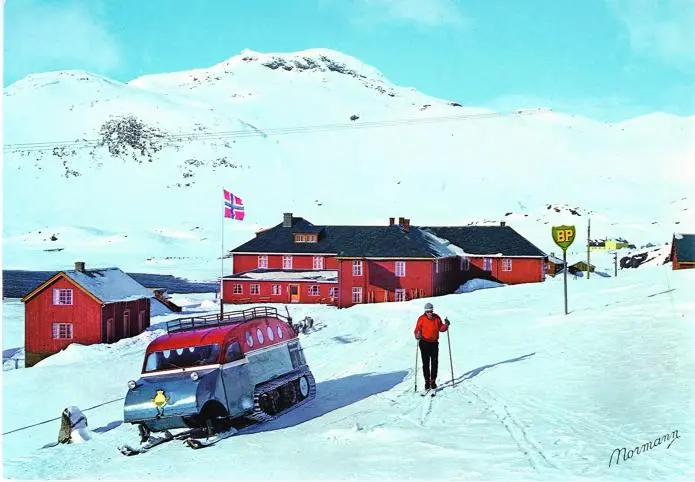 Dette er den eneste snowmobilen av type Bombardier med 6 syl. Chrysler motor med reg. nr. E-21632 som er lakkert i JVB farger. Dette ble gjort i forbindelse med en utstilling i Oslo som ble arrangert av importøren av Bombardier produkter til Norge Colbjørnsen & Co A/S i 1956. Sjåfør Jørgen Rødningen var med på utstillingen.
Dette bildet er tatt av fotograf Normann utenfor Bygdin Høyfjellshotell på slutten av 1950-tallet.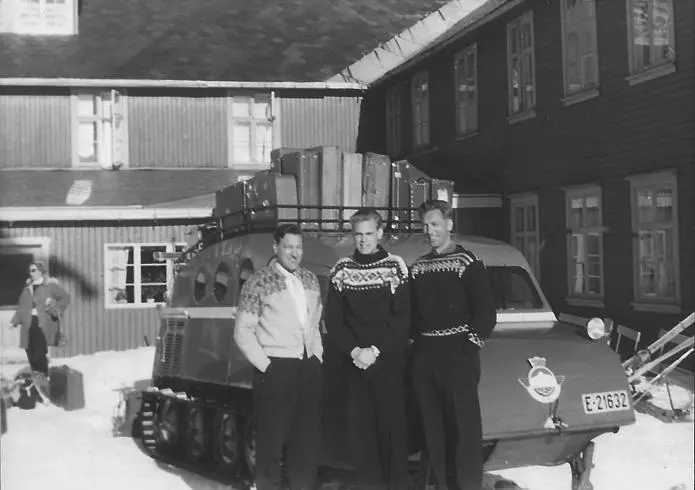 Vinterferien er over og snowmobilen, E-21632 reg. 15.04.55 er klar for avreise fra Bygdin Høyfjellshotell mot Beitostølen. Legg merke til alle koffertene turistene hadde med seg inn i vinterfjellet. Fotograf og personene på bilde er ukjent, men er tatt på slutten av 1950 eller først på 1960-tallet.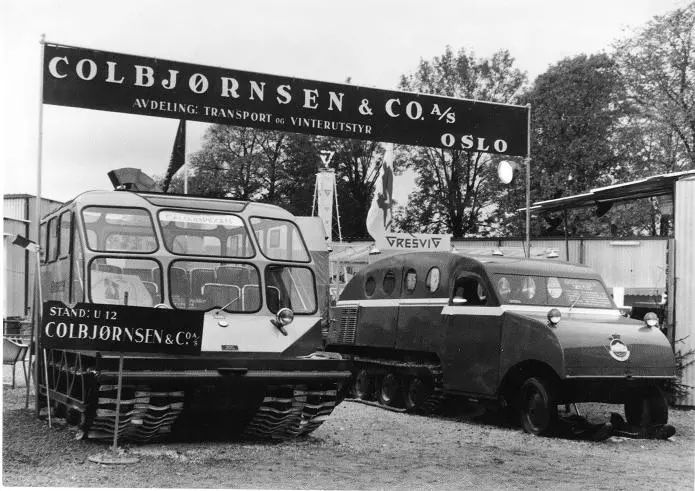 Her et bilde fra før nevnte utstilling. Ved siden en Muskeg som Aamund Elveseter som eide Leirvassbu Turisthytte i Jotunheimen kjøpte inn fra Colbjørnsen & Co.
Elveseter hadde to like og karosseriene var bygget hos Kolden mek.verksted i Lom. I tillegg hadde han også en Studebaker weasel som verkstedet bygget karosseri på.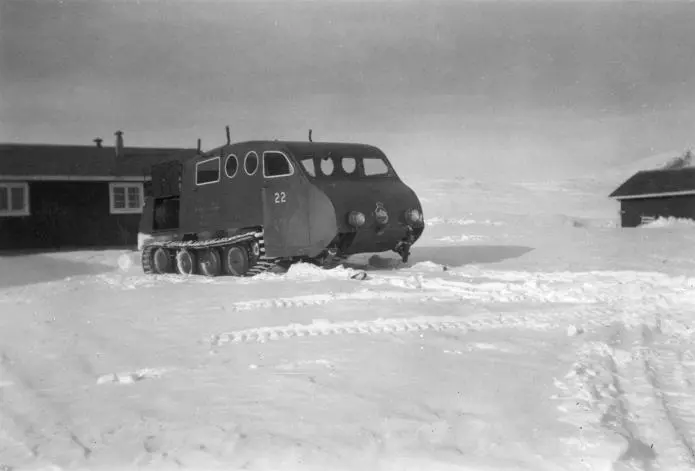 Bildet av E-15822 Ford 1944 mod. registrert 01.02.47 er tatt utenfor Kjølabu Turisthytte i påsken 1963. Fotograf: Ola Kristian Hegge.
Opprinnelig var disse beltebilene bygget en del smalere over beltene av produsent Bombardier i Canada, men ble utvidet i full bredde på karosseriverkstedet til JVB på Fagernes på 1950-tallet. Sentral person her var Arvid Olsen som drev selskapets karosseriverksted i mange år.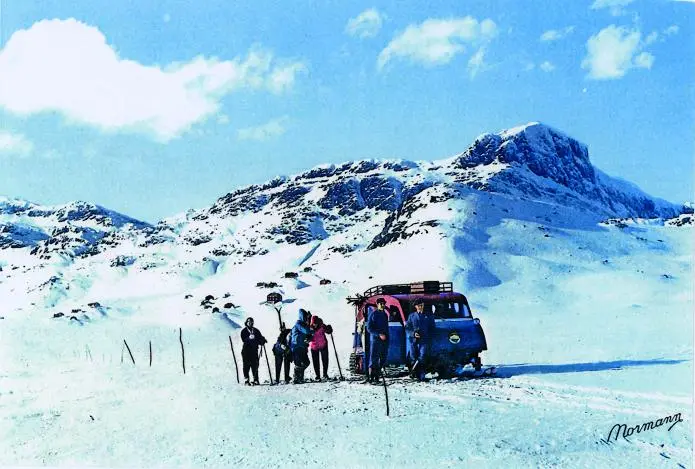 Fotograf Normann tok mange bilder med beltebilmotiver. Her ser vi igjen E-21632 i JVB farger foran fjellet Bitihorn 1607 m.o.h I bakgrunnen ser vi setergrenda Smørkoll. Personene lengst bak på bildet er skiturister. Ved snowmobilen ser vi Haldor Enger som var hotellgutt på Bygdin i flere sesonger. Etter hvert begynte han som sjåfør på beltebilene til Bygdin og var i sitt yrkesaktive liv ansatt i A.S Valdres Lastebilselskap. Foran ser vi sjåfør Gunnar Rødningen som kjørte denne ruta i mange år ved siden av å være bussjåfør.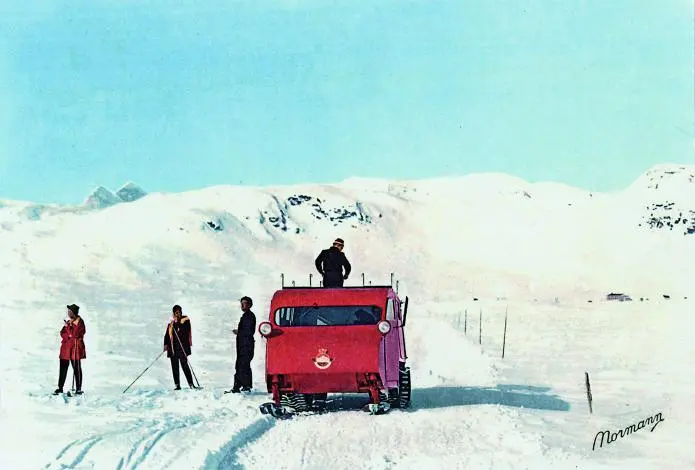 Ombygget Ford E-15823 registrert 30.03.47 1944-mod. På tur fra Eidsbugarden mot Tyin. Det er fotograf Normann som har tatt bildet på slutten av 1950-tallet. Sjåfør som står på venstre side av beltebilen er Olav Stølen som også kjørte turbuss og skolebarn. På toppen av beltebilen står tidligere disponent i JVB, Kristoffer Kvame.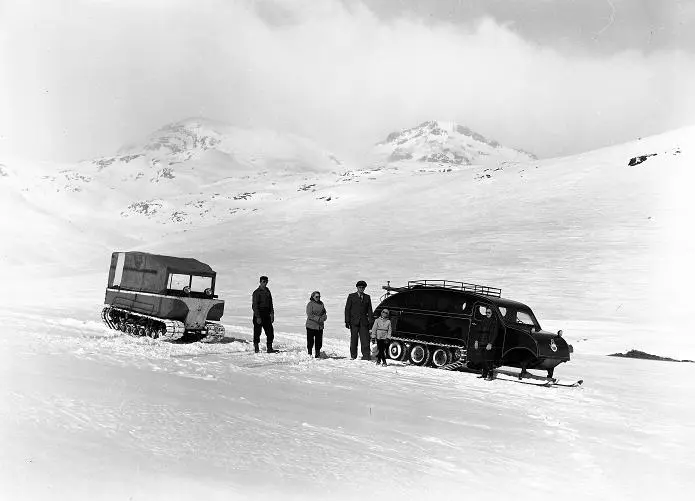 Fotograf Nils Neste har tatt dette bildet i nærheten av Eidsbugarden på slutten av 1950 tallet. Weaselen, Studebaker M 29, registrert som E- 15821 i februar 1947. Bombardier Snowmobil E-15569 reg. 03.03.57.
Vi ser Karl Aastad og Knut Thune, sistnevnte med sjåføruniform. De andre personene er skiturister.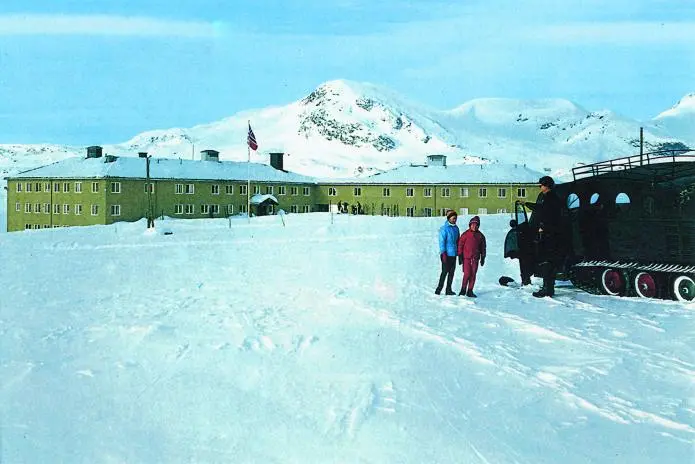 Flott bilde av Tyinholmen Høyfjellshotell en vinterdag ca.1960. I bakgrunnen ser en Koldedalstind 1927 m.o.h.
Snowmobilen er E-21631 registrert 01.03.54. Sjåfør Karl Aastad snakker med noen av Tyinholmen sine gjester. Karl kjørte beltebilruta mellom Tyin og Eidsbugarden i mange år ved siden av å kjøre kombinert person/godsrute på vestsida av Slidrefjorden og til Vang.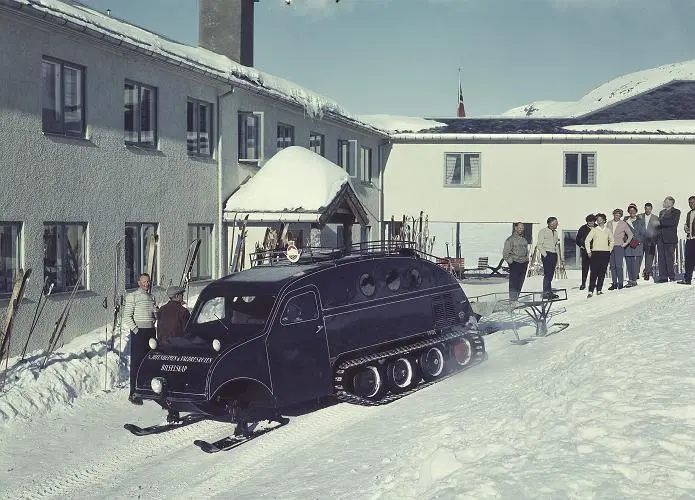 Her er « Blåmann» igjen, med henger klar for nytt oppdrag ved Tyinholmen Høyfjellshotell. Først på 1960-tallet. Fotograf: Nils Neste.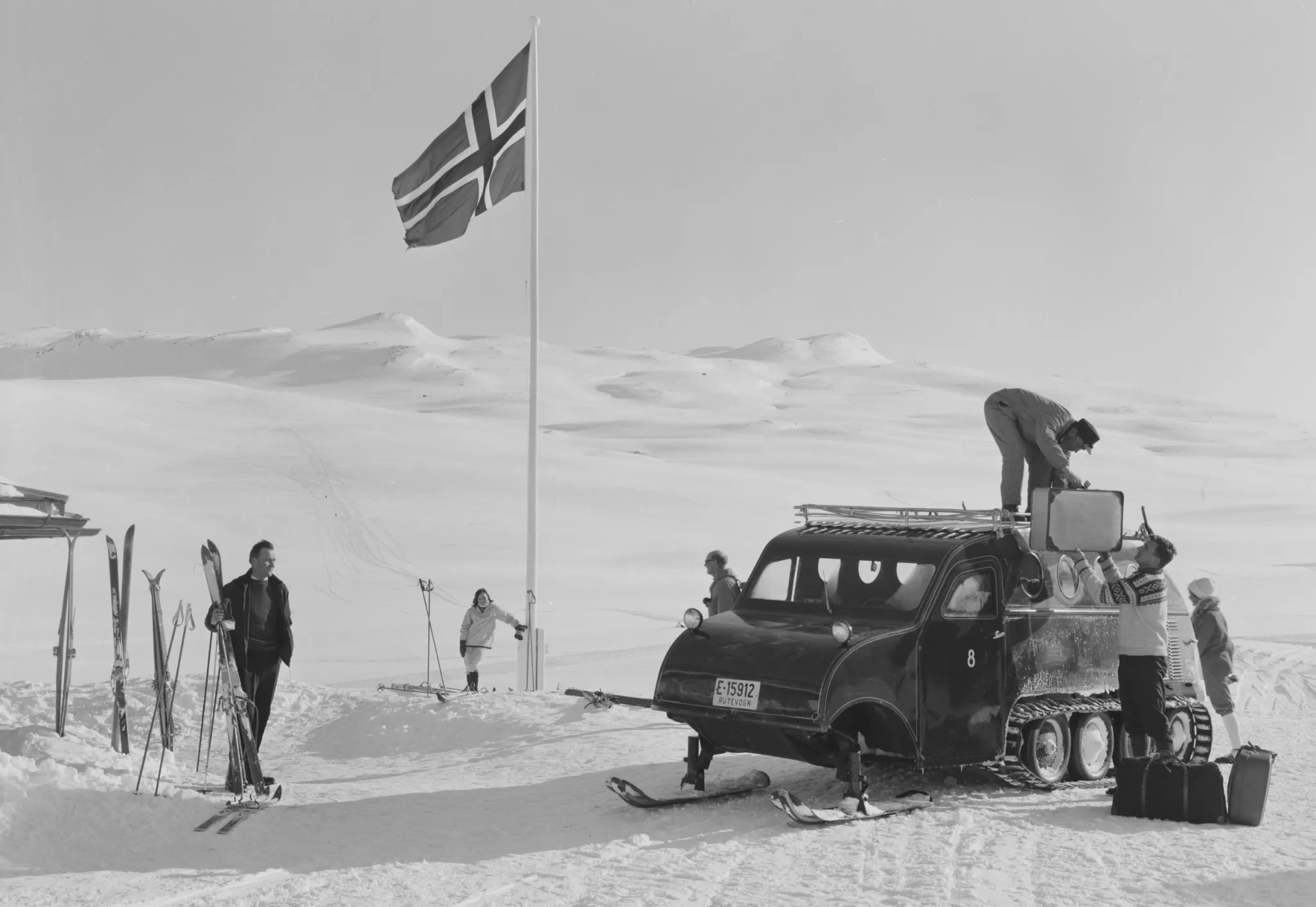 Et fint bilde av snowmobil E-15912 ved Eidsbugarden med utsikt mot Skinneggen,1484 moh. Sjåfør er Embrik Bøe som får hjelp med opplastingen av tidligere daglig leder i JVB, Kristoffer Kvame. Mittet & Co har fotografert i 1966.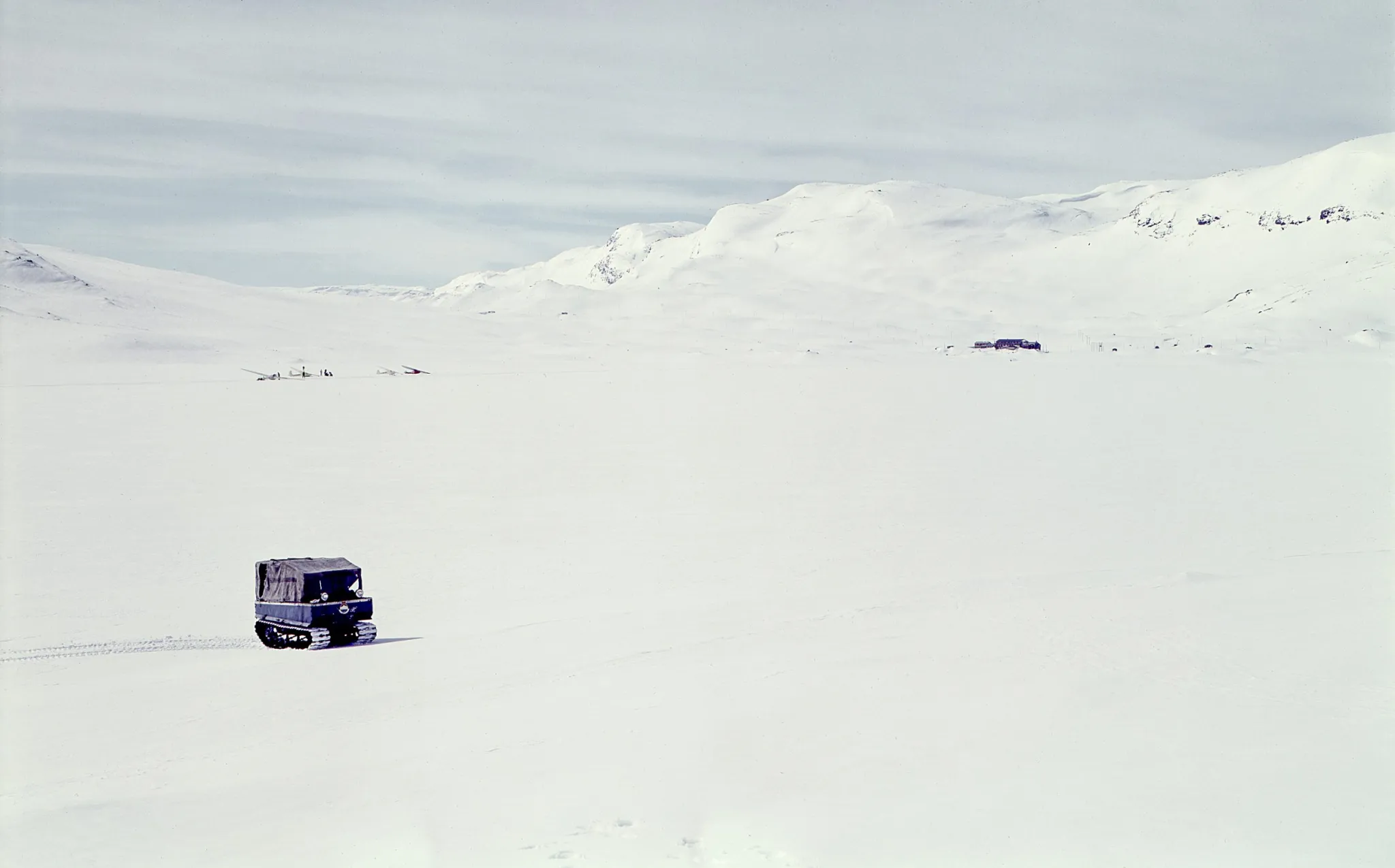 «Viddenes Herre», Studebaker M 29 Weasel med reg. nr. E-15820 ute på fjellsjøen Bygdin med Eidsbugarden Høyfjellshotell i bakgrunn. Denne dagen har det nok vert seilflystevne her, vi ser noen av disse på bildet. Nils Neste har fotografert.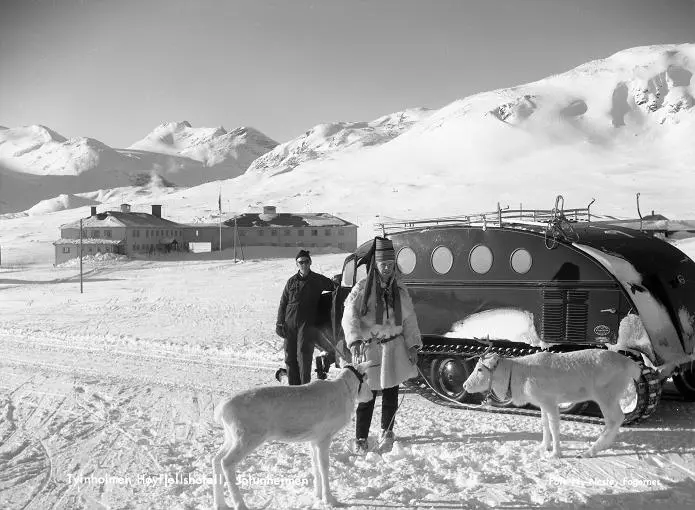 Et annet bilde av Snowmobile ved Tyinholmen Høyfjellshotell viser reingjeter Jens Herman Vahl fra Røros med to reinkalver. Sjåfør er Karl Aastad. Fotograf: Nils Neste.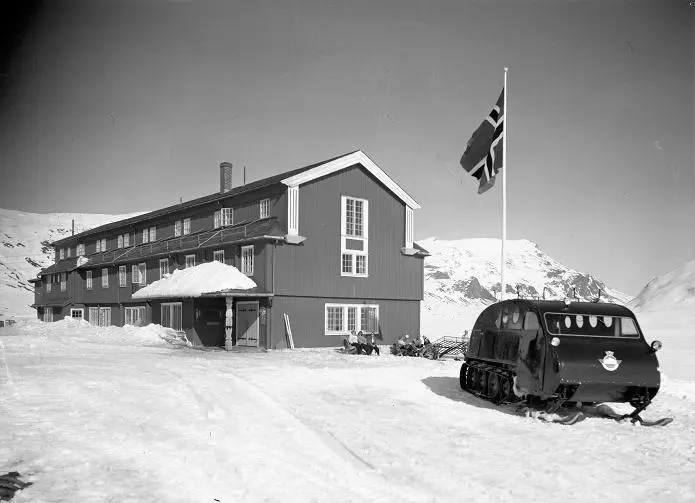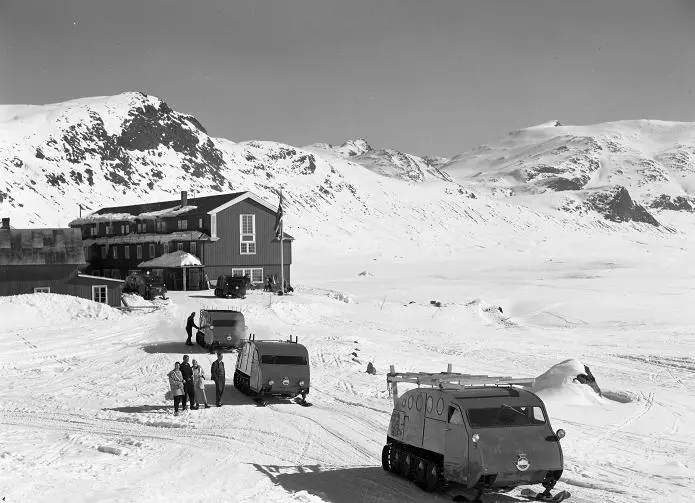 Stor ansamling av snowmobiler ved Eidsbugarden. Bakerst til venstre ser vi litt av "Blåmann". Til høyre og den helt i front er andre Bombardier med Chrysler motor.
De to i midten er ombygde Forder. Legg merke til takkonstruksjonen på snowmobilen nærmest. Denne skulle brukes til å frakte gipsplater til ombygging av 3.etasje på hotellet.
Nils Neste har fotografert.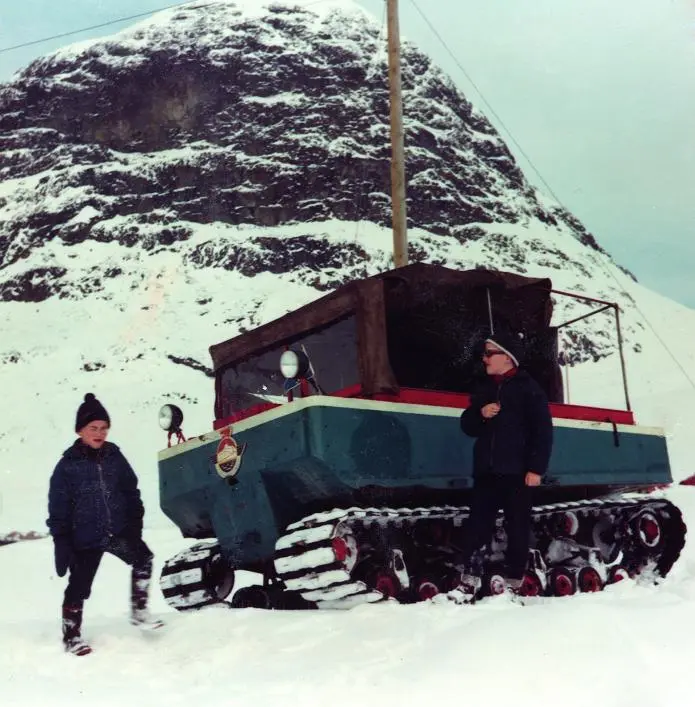 Studebaker M 29 E-15820 registrert 01.02.47 1944-mod. Bildet er tatt ved Bygdin påsken 1965. Fjellet i bakgrunn er Synshorn 1475 m.o.h. Guttene på bildet er: Knut og Sven Hjort-Johansen. Fotograf: Gunnar Hjort Johansen.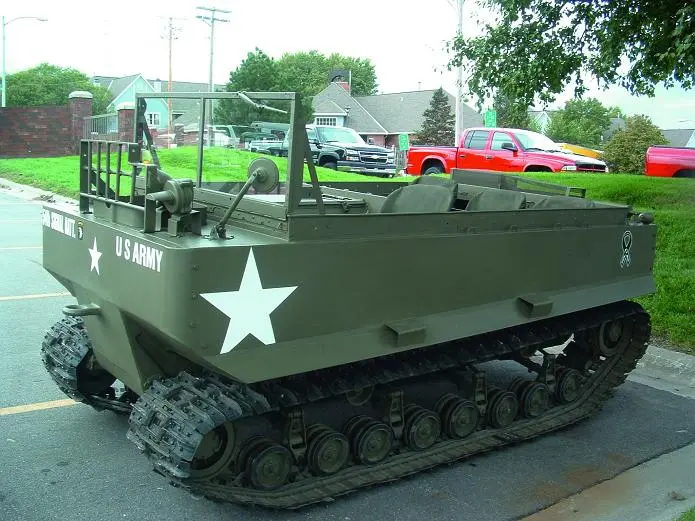 Studebaker M 29 Weasel. 70 hk. 6 syl. Mod.6-170. 1700 kg. Weaselen ble bygget for bruk i ørken og i snø. Navnet weasel kommer av et nord-Amerikansk pelsdyr som tar seg fram over alt og var derfor passende å bruke på dette kjøretøyet. Det var også utstyr for å montere på til kjøring i vann. Det norske Forsvaret kjøpte inn 2.000 slike kjøretøyer og brukte Weaselen i mange år før BV 202 og BV 206 kom inn i bildet. For de som er spesielt interesserte er det mange andre detaljer du kan finne på nettstedet Wikipedia. Det samme gjelder snowmobiler, gå inn på Bombardier Snowmobiles så finner du mange interessante detaljer, bilder og historie.
Beltebilen til venstre på bilde viser E-91814, en Snow-Track registrert 23.02.68 med Volkswagen motor. Dette var en mye brukt beltebiltype som var enkel i sin konstruksjon og forholdsvis rimelig i innkjøp. JVB anskaffet denne ny for å bruke den på rutestrekningen Beitostølen-Bygdin. Så vidt jeg husker ble den også brukt på strekningen Tyin-Eidsbugarden ved behov. Beltebilen ble avregistrert 11.09.97 og kjennemerket er makulert. Normanns Kunstforlag har tatt bildet, men er utlånt av Svein Hydle.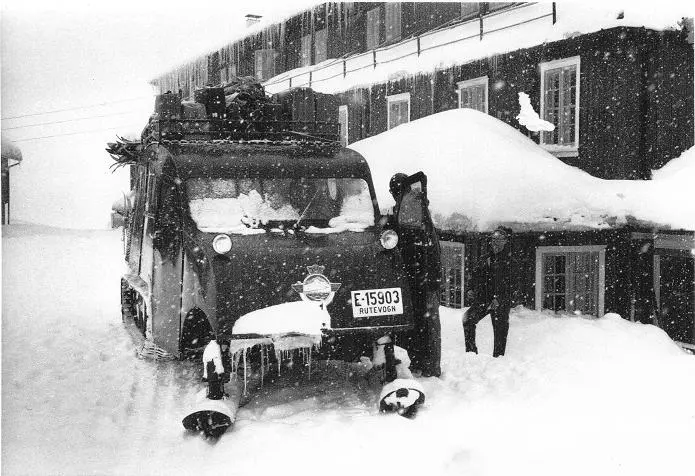 Snowmobile R 25 1955 mod. registrert første gang med reg.nr E-21632, 15.04.55 omreg. 05.03.65 til E-15903. Her ser vi beltebilen i sitt rette element ved Eidsbugarden Høyfjellshotell. Bilder er tatt av VG Journalist Jan Greve.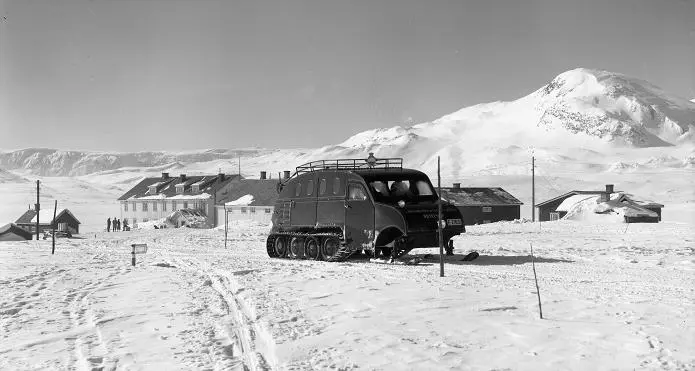 Et flott motiv inn i fjellheimen fra Tyinholmen med Snowmobile E-21631 reg.01.03.54. Legg merke til at JVB logo er festet i fremkant av takgrind. Dette var den første snowmobile med stålkarosseri som kom til JVB. Den fikk kallenavnet "BLÅMANN".
Bildet er tatt før 1959 da Tyinholmen Hotell måtte flyttes høgere opp i lendet på grunn av reguleringen av fjellvannet Tyin. Det første hotellet ble bygget i 1892, men som nevnt måtte dette flyttes og nytt moderne hotell med 110 senger ble åpnet. Fotograf: Nils Neste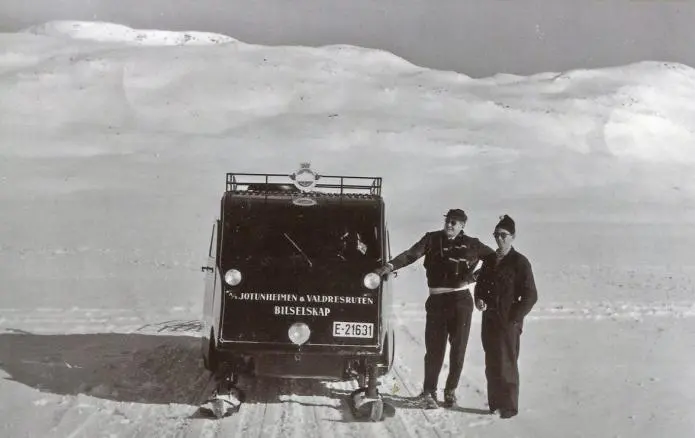 Snowmobilen « Blåmann» ,tidligere disponent i JVB Thorleif Aure og sjåfør Karl Aastad. Bilde er utlånt av Karl Aastad.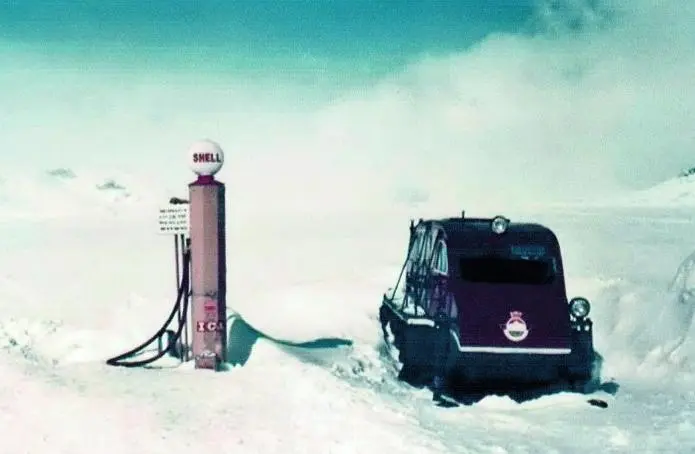 Dette bildet av E-15823 er tatt ved Tyin i 1957. Legg merke til fargene som var brukt på kjøretøyet. Bensinpumpa var i mange år landemerke på parkeringsplassen før avkjøringen til Tyinholmen og Eidsbugarden. Foto: Jon Kvale